Wairarapa Montessori Centre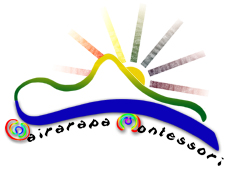 We are located in Masterton, New Zealand,
which is a 90 minute drive northwest of Wellington.
Our unique location places us next to beautiful Henley Lake.
We have a thriving and exciting pre-school and are open 5 days a week.
As of January 2001 we will have a primary class associated as
a 'satellite' of Wa Ora Montessori School in Nae Nae, Lower Hutt.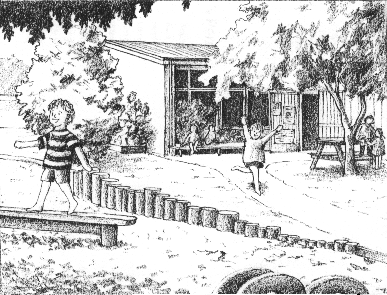 Drawing by Jane Sinclair
The playground was built by enthusiastic and very hard-working fathers
in 1998, with the play area doubled in size in November 1999.
In November 2000, our energetic fathers added a large sand-pit,
artistically enclosed with vertical posts.
Thank you to all parents who have helped make WMC a success !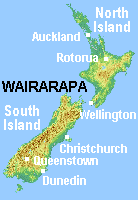 Masterton is a town located in the district known as Wairarapa,
which is a Maori (NZ aboriginal) name meaning "Glistening Waters".
Sometimes referred to as "Wellington's Playground", it is mainly an agricultural
area comprising of vineyards, orchards, pine forests and the ubiquitous
sheep and cattle farms seen throughout New Zealand.
In recent years, the Wairarapa has attracted
an increasing number of tourists.
Some typical Wairarapa scenes...
New Zealand scenes would not be complete without sheep...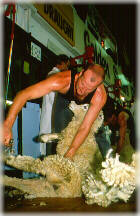 Our little town of Masterton is proud to have hosted the
International Golden Shears Competition for the past 40 years.
This is the largest sheep related contest in the world.
Montessori Trivia
Montessori education continues well beyond pre-school.
For example, Pauline taught at a school in the USA
that had students up to 15 years of age.
Maria Montessori, was born in Italy near Rome.
She was the first woman medical doctor in Italy.
Her picture is on the Italian bank note equivalent to
the US 'dollar bill', complete with Montessori
school children on the back !
Here is just one example of the international success of
Montessori education: The country of Malaysia is building
70 new Montessori schools. This project was initiated
by an inspired Malaysian businessman.
Parents, did you know that the classroom materials
are precision made in the Netherlands and are quite
expensive ? The pink tower, for example, costs nearly
$300 NZD, the bells (seen elsewhere on this site)
$2000 NZD, the European flags $440 NZD !

If you have ideas for this page, or just want to say
"Hello" to Pauline, please email her at:
juno@paradise.net.nz


Parents, be sure to surf over to:
The Montessori Parents Forum
http://members.aol.com/mopafo/
and the MCI Web Site
http://www.montessori.ac.uk
Remember to bookmark this site for future updates.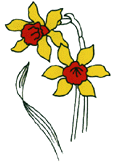 This web page was created by Pauline's husband on 25 Feb. '99,
revised: 29 Sept. '99, 16 & 26 November 2000.